Growing on water with mainly salt water offers great opportunities for greenhouse horticulture. That's why Red Sea Farms, a Saudi Arabian farm, recently raised $10 million from a group of investors from Saudi Arabia and the United Arab Emirates.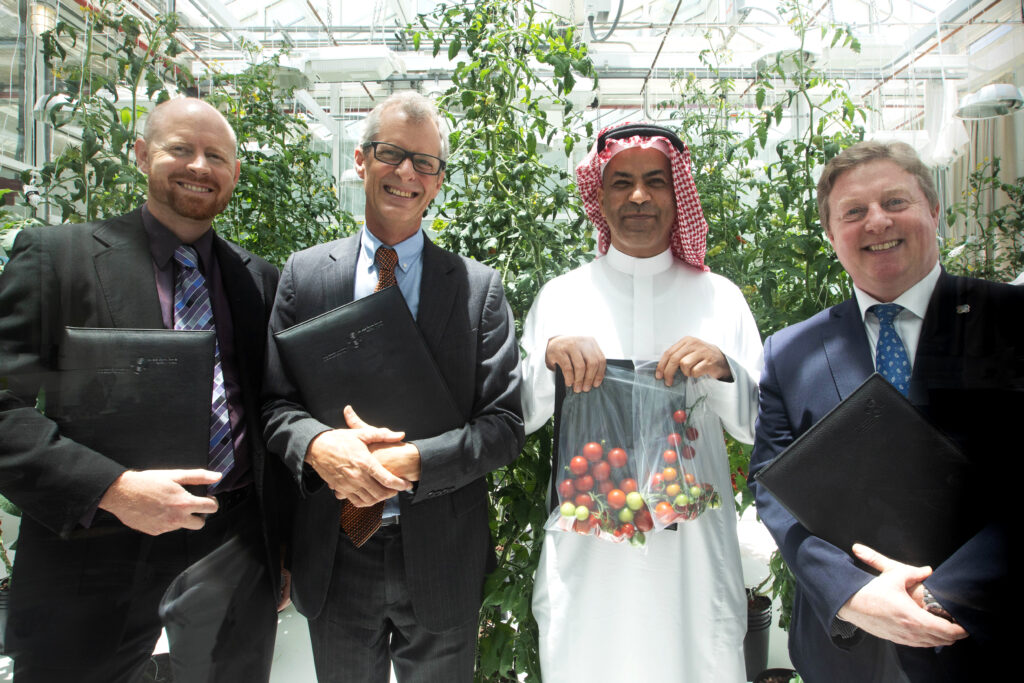 The investment in Red Sea Farms, located at King Abdullah University for Science and Technology (KAUST), a hundred kilometers north of Jeddah, is one of the largest AgTech investments in the region to date. The consortium reflects the growing interest of investors in the Gulf region in sustainable horticultural solutions that can respond to global supply chain disruptions due to, for example, a pandemic.
he funding is led by a group of investors from Saudi Arabia and the UAE, including Aramco's Wa'ed venture capital fund, the non-profit Future Investment Initiative Institute foundation, KAUST and Global Ventures, a UAE venture capital group. For many of the participants, this adventure is one of the first AgTech investments.
Salt instead of fresh
Red Sea Farms was founded in 2018 with the aim of reducing food insecurity, carbon footprint and freshwater use in the food sector worldwide and in the Gulf region in particular. The company's unique all-encompassing growing system uses primarily saltwater, reducing freshwater consumption by 85 to 90 percent.
A patented system of more efficient technologies for generating and applying solar energy and monitoring crop growth now allows use of salt water instead of fresh water typically used to cool greenhouses and water crops .
Pilot greenhouse
"Red Sea Farms' cultivation systems can be scaled up quickly and easily in warm climates such as the Middle East, where conventional cultivation methods are not possible or cost-effective. We will initially use the technology to grow and market tomatoes in Saudi Arabia, but eventually we plan to bring complete turnkey growing systems to market for interested parties all over the world," explains the Red Sea Farms team. "The funding will be used to set up more than six hectares of commercial cultivation activities in Central and Western Saudi Arabia through new construction or modernization of existing facilities."
The company currently operates a saltwater test greenhouse in the KAUST Research & Technology Park.
This investment is the first from the non-profit Future Investment Initiative Institute in high-tech horticulture. "Our investment in Red Sea Farms fits well with our mission to support initiatives and projects that can have a positive impact on humanity," said Richard Attias, CEO of the FII Institute. "Our triple strategy 'Think-Xchange-Act' enables us to play a decisive role in the new impact economy. We are excited to partner with King Abdullah University for Science and Technology and other key investment groups to bring this revolutionary technology to market."
Red Sea Farms, a KAUS spin-out and advised by the Kirchner Group, was originally founded by Tester, a plant scientist, and Lefers, an expert in horticultural engineering. Both also recently acquired Iyris Advanced Desert Greenhouses, a smart glass manufacturer developed by Derya Baran based on solar technologies and optical tuning. For example, Baran, who is also affiliated with the university, became a co-founder of Red Sea Farms.
Red Sea Farms received a $1.9 million investment in 2019 from the KAUST Innovation Fund and the Saudi Arabia-based Research Products Development Company. KAUST, a leading research university, is a major innovator of sustainable growing solutions for the Middle East and other water-scarce regions.
RSF is tackling the food and water nexus in the region, but also in geographies where the climate limits the possibilities of agriculture. To us, what stands out most about the company is the unmatched trifecta of the solution. Co-founders, Dr. Mark Tester and Dr. Ryan Lefers, married their individual scientific specialties to create a solution at the intricate intersection of engineering, plant sciences and innovation.
Tebarex – Horti Technology
We greatly appreciate your attention and interest in our company and our products.
In the rapidly changing world of modern horticulture, where quality and cost control are key concepts,
choosing the right supplier in the area of technology and automation is of vital importance.
Tebarex is formed by a team of experienced engineers who has been working for many years
in the companies Tebarint, Van der Arend Tuinbouwtechniek and Arend-Sosef.
The wide-ranging experience we have gained in all conceivable climatic conditions,
including the cold in Russia and the heat in the Middle East, has taught us that only the highest level of quality is good enough!
The correct design, proper choice of materials, optimal guidance and support in execution,
and a well-organized after-sales service are therefore in the most capable hands with us.
For the design we use the latest design tools.
Tebarex, established in the Netherlands, combines this "global experience" with the innovations which regularly occur in Dutch horticulture.
So, you may rest assured that, for your project as well, the applicability of the very latest technologies in the area of horticulture,
is carefully studied for feasibility and efficiency.
As a matter of course, we are working with clear, well-defined offers, designs and drawings,
leaving no questions you may have unanswered and affording a clear choice.
Tebarex is equipped with advanced ERP software that all projects can be optimally managed.
Our motto therefore is "your succes is our succes"
Our dedication to helping you realize your "goals" has made us one of the world's leading companies in the area of horticultural technology.
Let us be your partner in technology, we're looking forward to meet you.
Tebarex B.V.
Jogchem van der Houtweg 4
2678 AG de Lier
The Netherlands
Bell pepper growers celebrate new name variety
The new yellow pepper variety E20B.0375 from Enza Zaden is now called Solaste. In honor of this name change, various growers received a cake and a plate with the new name of the variety. 
Representative Luc Trines visited John de Groot of Kwekerij Concordia in Harmelen. Grower John had already tested Solaste last year and immediately shared his positive experiences: "Solaste colors very easily and evenly, especially in the beginning, does not need a deep pre-midnight and sets quite easily. The plant is more compact and Solaste does not put much on the side branches. This keeps the fruit weight higher, which is a big advantage." 
Nursery Tas and nursery Motreahof have also opted for E20B.0375 Solaste peppers. They also received cake and a plate. 
For more information: 
Enza Zaden Netherlands
www.enzazaden.nl
New cultivation system & 1st harvest in Nispen
It is good to stay in the new Ventrio foil greenhouse at Robert van Aert (Van Aert Aardbeien) in Nispen. After much deliberation, the conscious choice was made for this cultivation system in 2020 and now, after a period of 6 months of preparation, the harvest is now underway. A beautiful harvest that makes for smiling faces at Harrie Pijnenburg and Marc van Tilburg (both from Delphy) and grower Robert.  
A harvest is labeled 'top' by the experts. According to the gentlemen, with the Sonsation variety and with the right cultivation strategy, 'a top performance' has been achieved in this new cultivation system 'Ventrio'. The strawberries that will be harvested are of excellent quality with good firmness and colour, grow nicely and also have a good taste.
High ventilation capacity and optimal climate

Earliness was not the most important factor in this cultivation round, but it did control the climate. Thanks to the automatic ventilation system with a very high capacity, this has been successful, as it turns out. The Ventrio cultivation system focuses on the ideal humidity and temperature for strawberry cultivation. All this is done fully automatically based on the conditions measured by the system. For example, during the cold spring, the system automatically closed the tunnels during night frost, only to open them again as soon as sufficient solar radiation was reached during the day. In addition, the grower can still manually adjust the conditions as desired, with the simple push of a button.
Grower Robert states that he is very satisfied with the investment in this innovative project and with the result achieved. "Together with Agrowser, JB Hydroponics and CJ Klep we have put away and achieved something beautiful."
For more information:
Handelsonderneming CJ Klep BV
www.klep-agro.nl