Last week, the Organic Produce Summit was held in person at the Hyatt Regency Hotel in Monterey, California. An article about the event was published last Friday. Traditionally, the event is closed with a trade show that takes place on the last afternoon of the two-day event. Just like previous years, the trade show was sold out. More than 150 companies exhibited, and the number of attendees was capped at 1,200, but many more would have liked to attend.
For some, it was the first time attending a show in about 18 months. Others had already attended several regional shows throughout the United States this year. One thing everyone had in common was that they were happy to see each other in person again. "It is our first show since the pandemic started," said Patrick Cortes with Mission Produce. "I hope it is the start of the produce community coming back together more often." Michael Dupuis with Divine Flavor was also happy to be back. "We are an advocate for organics, have been sponsoring OPS from the beginning, and it is definitely an event we want to part of," he said.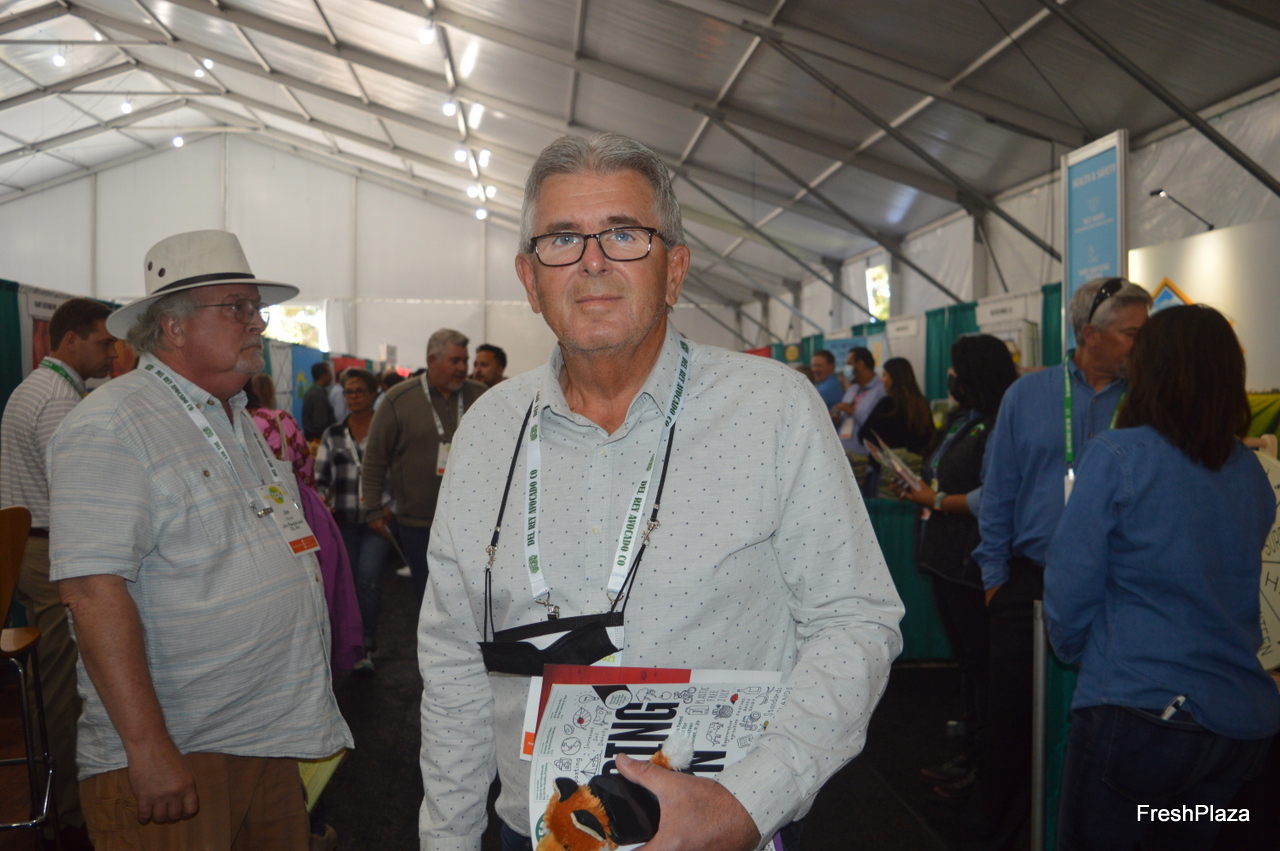 Ray Wowryk with Nature Fresh Farms is walking the show.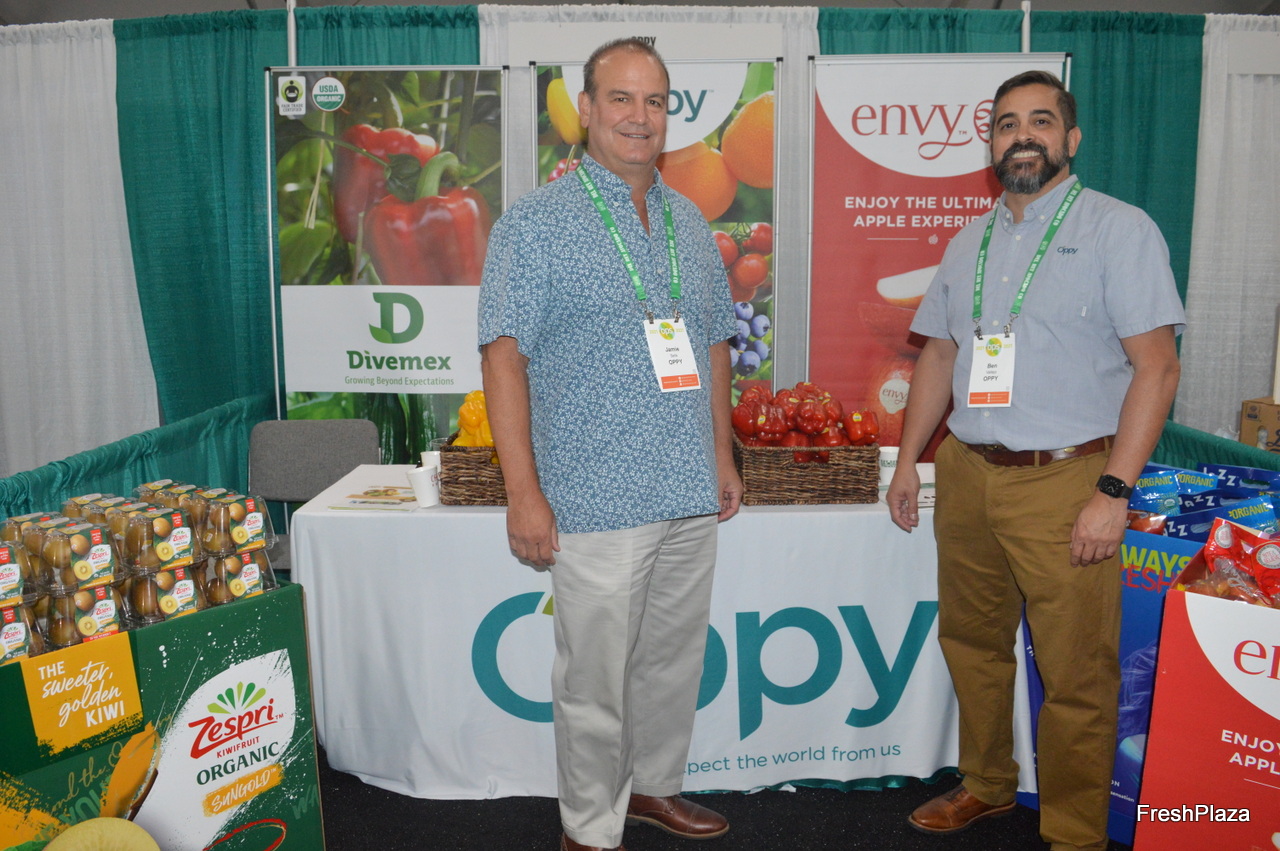 Jamie Sells and Ben Vallejo with Oppy have a variety of produce on display to show to buyers. From Envy apples, to Divemex bell peppers to Zespri kiwifruit. 
Click here for the complete photo report from the show
Potential buyers
Exhibitors were pleasantly surprised by the number of people that attended show. The number of (potential) buyers in attendance was probably a bit lower than previous years as some retailers don't allow their employees to attend events yet. Nevertheless, exhibitors were very happy with the buyer turnout and said it was much higher than expected. Christina Ward with Sunkist complimented the organization. "It is a great setup and a fantastic crowd," she said. "It is really good to get back into the trade show scene." With good air circulation and open space between booths, attendees shared they were comfortable attending.
Although some new products and packaging were shown, it was evident that the focus was on seeing each other in person and catching up. Behind the scenes, many companies have been working hard on re-brands and new products to be launched at PMA Fresh Summit. With PMA announcing the cancellation of the October trade show, it is expected the produce industry will find other creative ways to make new product announcements in the coming weeks. The cancellation of Fresh Summit also means it is uncertain when the North American produce industry will be able to get together in person again.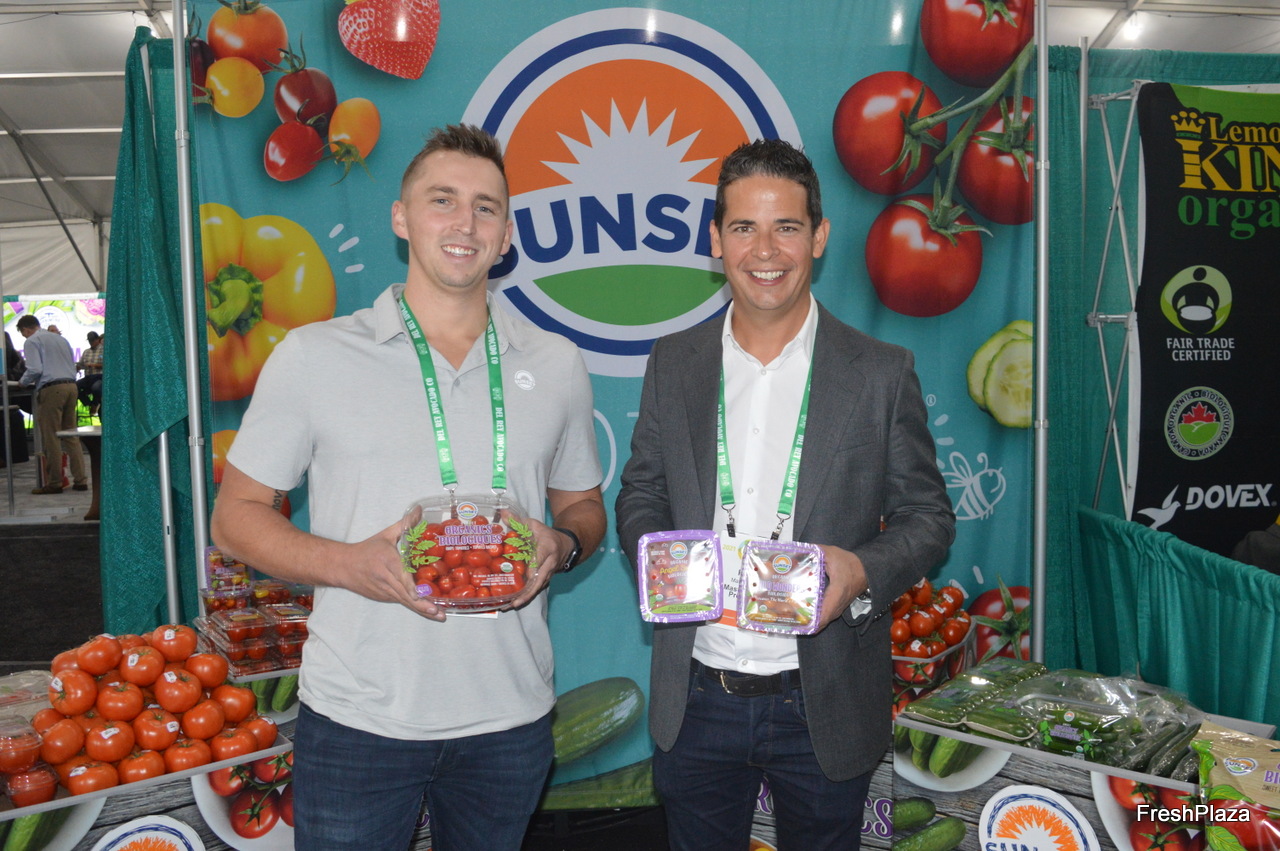 Branden Hontalas and Paul Mastronardi from Sunset/Mastronardi show different organic tomato varieties as well as packaging types. Prior to the start of the trade show, Paul Mastronardi participated in a panel discussion on the growth of Controlled Environment Agriculture: Real or Hype?
Rob Jackson shows organic grape tomatoes from Red Sun Farms.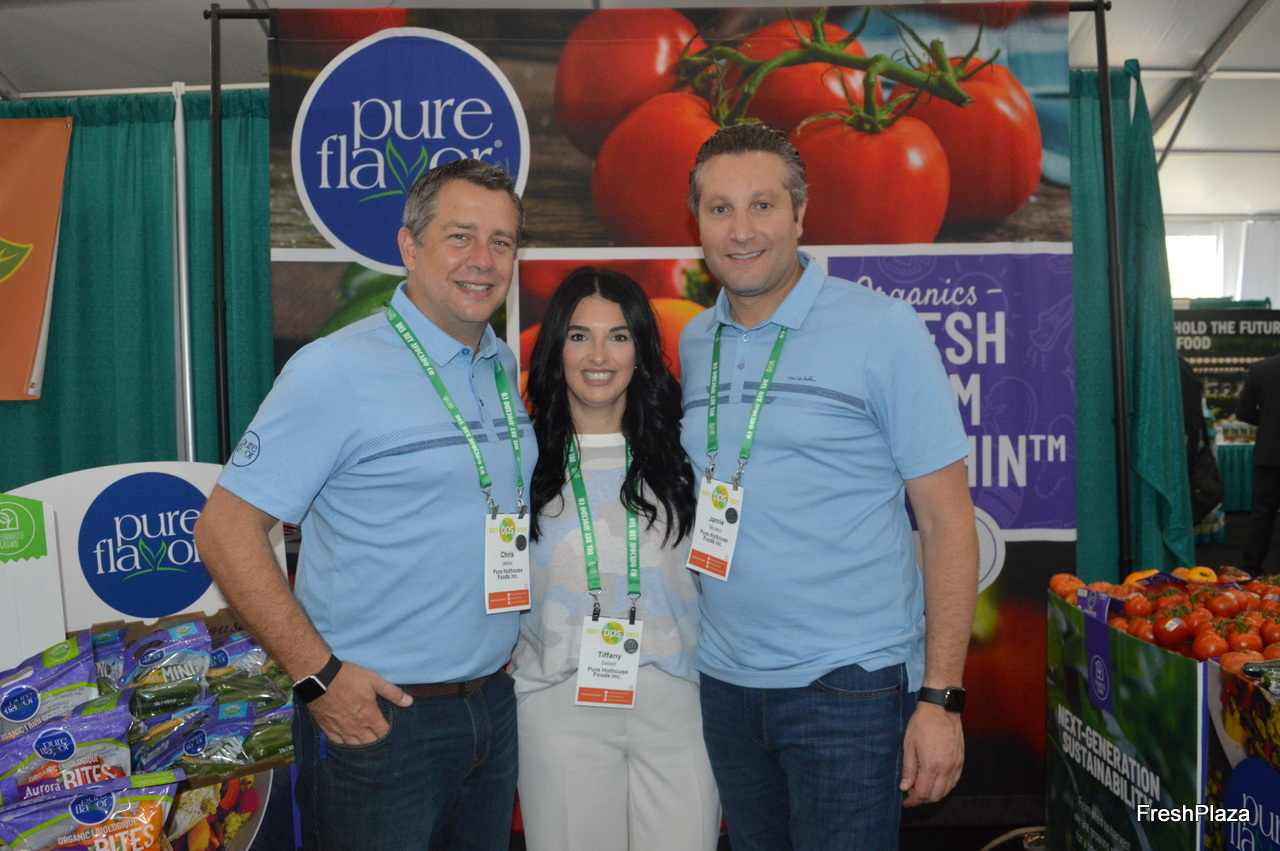 The team of Pure Flavor. From left to right Chris Veillon, Tiffany Sabelli and Jamie Moracci.
Mid-July
The Organic Produce Summit is traditionally held in July, but was moved to September due to COVID. In 2022, the event will move back to its usual mid-July time frame.
Education session focuses on innovative ag inputs for organic growers
An examination of how organic growers can best use approved bio inputs in the most efficient and effective manner for their crops and bottom line will be the subject of a just announced educational session as part of the 2021 Organic Grower Summit presented by Western Growers and OPN (OGS) educational program, slated for December 1-2 in Monterey, CA.
"Innovative and Compatible Ag Inputs for Today's Organic Grower" will explore the various tools available in the production of organic crops, how growers choose new products, the environmental impact, and how these bioproducts can impact costs. Moderated by Neal Gutterson, president of Radicle Growth, the panelists are leaders from organizations directly involved in the approval, distribution, and application of biological inputs for organic growers. The panelists include Pam Marrone, founder of Marrone Bio, Doug Currier, technical director of the Organic Materials Review Institute (OMRI), and Tim Stemwedel, founder of California Organic Fertilizer.
Left to right: Pam Marrone, Doug Currier, and Tim Stemwedel. 
The fourth annual OGS is designed to provide information vital to organic growers and producers, as well as an overview of the opportunities and challenges in producing organic fresh food. The newly announced session is part of an educational program designed to inform and engage organic producers, their service providers, and supply chain partners.
Among the topics for discussion in the session are the role of the National Organic Standards Board (NOSB) in determining what USDA allows or eliminates from the organic grower's toolbox, how growers can be stakeholders in the process of bio input selection, new OMRI approved products and how farmers can best utilize these inputs, the environmental impact of various inputs, and what trends are happening for specialty crops.
"While farming is a biological process, the organic grower is faced with the question of when biology becomes chemistry in the development of organic materials? Further, how best can a grower choose what items to be a part of the toolbox?" said Tonya Antle, co-founder of the Organic Grower Summit.
OGS exhibition and general registration are open. With only four trade show booths available before the show floor sells out, exhibitors include soil amendment, ag technology, food safety, packaging and equipment manufacturers connecting with organic field production staff, supply chain managers, pest control advisors, and food safety experts.
Right: Neal Gutterson will moderate the panel.
"In partnership with Western Growers, this year's OGS will provide resources and information to support the continued success of organic producers, with an emphasis on the role of ag technology," said Antle.
OGS 2021 will be held December 1-2 at the Monterey Hyatt Conference Center in Monterey, CA. More details on the educational program will be released in the coming weeks. Click here for more information on the Summit.
For more information:
Organic Produce Network
Publication date: 
Symphony of Salad Studies
Ten years ago, the first container farms began to appear in the United States, where enterprising startups tried to grow salads and other green crops. They began to install containers at the places of harvest consumption so as not to waste time, effort and money on the delivery of goods. The first to go were the unused containers of the Boston port, which, instead of being recycled for scrap, were given a second life in the form of high-tech hydroponic growing facilities. As a matter of fact, the containers themselves, in the aspect of this innovation, fulfilled only the function of a rather strong and usable shell of a living organism of a farm. It is based on autonomous equipment, the work of which is somewhat reminiscent of the device of musical instruments – with their help, the energy of thought is transformed into a symphony. And in this case, we are talking about agricultural masterpieces, where mechanical actions programmed by a person, aimed at growing vegetables, are performed by robotic equipment of the farm. It brings together the best developments in industrial programming, energy conservation, and agricultural innovations. In other words, a new scientific direction is being obtained, which can be conditionally called "salad studies". After all, it is salads that have become one of the most successful and therefore popular crops on container farms.
It is interesting that similar projects began to appear in Ukraine as well. One of the first was the Smart Oasis Farm startup, which became famous for the invention of the "oasis" with fresh water, in other words, installations that are able to generate drinking water from the air. This development has even been tested in the United Arab Emirates – in Dubai. Now Smart Oasis Farm is setting up the production of container farms. Founder of Smart Oasis Farm Alex Prikhodko and development director Anatoly Kalantaryan shared information on how entrepreneurs manage to do this.
– How did you select equipment for the farm, where did you find information about what it should be?
– For about six months we have deeply analyzed similar projects in America, Australia, the Middle East – what technologies and equipment they use, methods and materials. After that, an understanding came of how and what to apply. By the way, there are not many container farms in Europe so far. After analyzing competitors, an analysis was made of potential partners who are already engaged in such solutions. Negotiations led us to the fact that we decided to build our greenhouse ourselves. For the next six months, we selected and ordered components for creating a prototype of a container greenhouse, made molds and hardware software, placed orders and agreed on parameters. It turned out that the entire internal layout of the greenhouse – nodes and elements, modules and automation – became our author's development. The lion's share of the equipment was manufactured in Ukraine, what they could not do from us was purchased in China, as well as the container for the greenhouse itself.
– Has the greenhouse been commissioned yet?
– Yes. Geographically, it is located in the Cherkasy region. -Plus, now it is possible to place the second and even the third similar box on the first container in order to clearly demonstrate the scaling of the project.
Now we are working on improving the greenhouse hardware. From the fan to each pump in the system, the controls are electronically controlled. Our key task is to drastically reduce water consumption, excluding its losses during evaporation. After all, plant nutrition is carried out by the aeroponic method.
– What was the most difficult thing?
– It was difficult to do this at all stages, there is no one to turn to for advice. But the work carried away. The prospect of the business, the ability to grow a completely ecologically safe product, regardless of the external environment, climatic conditions, as close as possible to the place of its consumption, also inspires.
– What challenges did you face when choosing crops and planting material?
– The cultures that we decided to master in the first place are basil, lettuce, baby bodice. It took a long time to select the optimal variant of the substrate, capable of ideally working with aeroponics technology. We tried both peat and coconut. They also experimented with organic substrates, linen and hemp rugs. Basalt wool came up best of all, since the material does not leave dirt behind, has a high level of absorption, retains moisture for a long time, while being inert to the environment and neutral in structure, that is, it does without oxidation or alkalization.

It was easier to choose planting material – we use Rijk Zwaan seeds. We spent some time experimenting looking for an answer to the question of the economic feasibility of using more expensive pelleted seeds and found that these costs are unnecessary in our case. At least, we did not observe an increase in yield when using pelleted seeds. We use GHE products as a fertilizer supplier. At the moment, we are preparing to grow berries and low-growing vegetables. In order to achieve optimal system settings that will speed up the growing process without losing the organoleptic characteristics of the product, sometimes we even deliberately expose the plants to additional risks, for example, we increase the temperature in order to identify critical indicators based on the results. To calculate the economic component, you need to grow the crop, weigh it, and understand what operating costs accompanied the process.
– What are the yields, do you have experience in their implementation?
– The average weight of lettuce or basil, which we get from one seat, is from 125 to 150 grams. By using a different type of containers, more spacious and oversized, we plan to increase the number of seats from 1440 to 1900 by increasing the number of tiers from four to five. Consumption of seeds per one seat is 3 pieces. The payback of such a greenhouse on salad and spicy crops at their current market price is 3-4 years.
So far we have not been selling the lettuce that we have grown. We were happy to entertain everyone – friends, guests, employees and all those who help us in launching production.
– How are you going to develop the project?
-"We are preparing to launch mass production of such container farms, which can be combined into large greenhouse complexes, where different crops can be grown at the same time. We are going to sell such boxes and technology.
– And what about the financing?
– The project has a strategic investor who has allocated the current round of financing. At the moment, we are also discussing with him further investments to create an industrial complex capable of providing the production of dozens of container-farms per month.
– What can you say about potential buyers of such farms?
– These are educational institutions that are obliged to provide children with fresh produce, and farmers who are already engaged in this business, but cannot get the predicted harvest, as well as the HoReCa segment …
In fact, we have created an electronic technologist, where all agro-technological maps are already included in the software. It is not necessary to be an agronomist to successfully grow crops in such a container.
– Where do you see great prospects in increasing the number of container farms or converting urban facilities into ecosystems for industrial plant cultivation?
– Both options make sense – both have their advantages and disadvantages. The advantages of re-equipment of existing urban facilities include the availability of communications (water and electricity), partially prepared infrastructure. However, to ensure maximum energy efficiency and due to the specific climatic conditions required for growing plants, the room still needs to be additionally waterproofed and thermally insulated. And also integrate a climate control system into it, which will make it possible to grow crops that need similar climatic requirements.
The advantages of container farms include the absence of the need for capital or repair work, and the readiness to quickly launch such complexes. It is important to note that each greenhouse complex is a closed climate cycle that allows you to grow different crops with a variety of climatic requirements.
– Why, in your opinion, urban farming in Ukraine is not developing very rapidly, when to expect a boom?
– Due to the abundance of natural resource opportunities that Ukraine has. But over time, this segment will begin to develop more rapidly in our country due to economic, logistic and technological factors. Also, this direction carries with it the greening of both production and consumption, which, in turn, also develops and becomes more in demand by people, companies and the state.
A lot is possible without chemistry, but it is impossible without it
De Kemp tries to focus as much as possible on a sustainable cultivation method with resilient crops.
Propagation company De Kemp in Meterik, North Limburg, does everything it can to grow disease-free starting material. A 'preparatory year' with Tagetes or Japanese oats has become standard, with plenty of work being done with compost, rock flour and a variety of trace elements. "We strive for sustainable and resilient cultivation with the cleanest possible start," Martin de Klein, responsible for crop protection and fertilization, explains the company's course in Bayer's Strawberry Courier.
It is mid-May and the sun has barely made an appearance for a few weeks. And the temperature has not risen above 15 degrees for days. "No, things are not going so fast on the field and in the greenhouse. I think we are a week or two behind in growth. But oh well, with a bit of nice weather that will soon be overtaken," says Martin de Klein, while discussing the start of the season with advisor Henk Ritter van Mertens.
Ritter also sees no adverse effects of the slow start. "We should not compare everything with previous years. It was very dry then, but now we are fairly close to normal."
According to both men, there is still little to worry about with regard to diseases and pests. "The only concern we now have is the wind damage caused by the flapping of the foil," says De Klein. "That can be an entry point for diseases. In the coming days, it is therefore especially important to pay attention and work under conditions that are as dry as possible."
Focusing on resilient crops

De Kemp tries to focus as much as possible on a sustainable cultivation method with resilient crops. For example, about 50 hectares of land are prepared annually for propagation cultivation in the following year. In that 'preparatory year', the soil receives maximum attention.

In addition to a sophisticated fertilization with organic manure, compost and rock flour, Tagetes or Japanese oats are also sown to keep nematodes (P. Penetrans) under control. According to De Klein, these preparations increasingly pay for themselves in propagation crops. "We notice that our crops are stronger, more resistant to diseases and pests. This means that we can step back in the use of chemistry step by step. That is not a goal in itself for us, but it is a way to be prepared for a future with increasingly less chemicals."
De Klein says he learns a lot from organic cultivation, which is becoming an increasingly important part of the company. "We are therefore even more aware of the soil than before. On the one hand, that is very unruly matter, but at the same time also a very nice challenge!"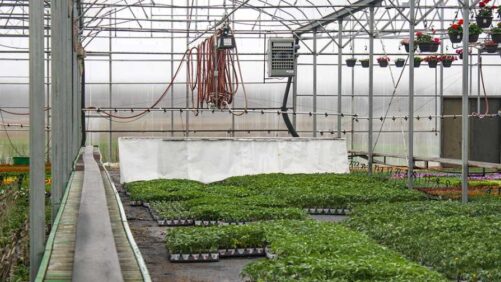 Starting with the cleanest possible starting material also has high priority within the company. De Klein explains that about 50 plants of all 15 cultivated strawberry varieties are selected and grown and further propagated as pre-basic material in aphid-free greenhouses. This produces about 20,000 'spotless' plants per variety.
"Chemistry still badly needed"

Although, according to De Klein, 'a lot can already be done without chemistry', he emphasizes that conventional propagation cultivation cannot yet do without chemistry. This is partly due to the variety range – in which characteristics such as production and quality (for the time being) carry more weight than resistance to diseases and pests. Another factor is that in conventional cultivation, higher demands are made on starting material. While 'a few percent' loss is still acceptable in organic planting material, the conventionally produced plants must be 100% good, Martin knows.
A disease for which chemical agents are still very much needed is Phytophthora. "Together with powdery mildew and spider mite, Phytophthora is one of the most important diseases in the cultivation and propagation of strawberries. Only powdery mildew and spider mites can usually be tackled with the current range of products, while the control of late blight has become increasingly difficult in recent years. sensitive varieties such as Malling Centenary, Malling Allure, Polka and Sonata, it is difficult to keep the fungus under sufficient control", advisor Ritter explains the current situation.
For more information:
Stefan van Heist
Bayer Crop Science
 www.agro.bayer.nl