If you aren't experiencing some type of greenhouse labor challenge right now, count your blessings and share your secret. Labor challenges in the controlled-environment greenhouse industry have become pretty typical over the last decade or so. However, the challenges in the past look very different than those greenhouse companies are tackling now.
As the shell-shocked U.S. returns to normal activity after experiencing the worst of the COVID-19 pandemic, business has ramped up for greenhouse growers. They're growing more crops, receiving additional product, shipping more, and adding new customers. While this growth is positive, it comes at a price. More people are needed to meet the demands of business, according to Liz Lark-Riley, Managing Director at Rockledge Gardens, a garden center based in Rockledge, FL. Lark-Riley adds that growers have also incorporated new elements of business that didn't exist before, like online ordering and curbside pick-up, that have increased the demand for deliveries.
The chicken or the egg scenario
The easy answer to the demand problem — hire more workers at whatever cost. Not so simple, according to Rose Vogel, Human Resources Manager at Skagit Horticulture, a greenhouse operation based in Mt. Vernon, WA, who points out that Skagit Horticulture would love to beef up its staff. However, it doesn't want to find itself in the position of having to lay people off down the line because it over-extended.
"Overall, the industry is experiencing high demand and a surge in popularity, but then there's the uncertainty of not knowing how long this trend is going to last, and a kind of a hesitancy to invest in things that we can't go back on," she says. "Maybe we could afford it now, but we have to be thinking toward the future and what is going to be sustainable."
This type of scenario also relates to some of the challenges growing operations are experiencing with pay for their workers. It's becoming more difficult to offer competitive pay and benefits. When the fast-food joint or chain store down the road offers $15 an hour and you offer minimum wage, workers will naturally gravitate toward the option that makes more money and offers year-round employment. You may have the ability to offer better wages. The question is, at what cost down the road? And that cost isn't only about the money.
"While our green industry is amazing, we are well behind compensation/benefit metrics offered by other industries, and thus continue to lose great talent to industries that provide more attractive compensation packages," says Todd Downing, Managing Partner at Best Human Capital Advisory Group. "This deficit both draws people out of our industry as well as acts as a barrier to new people entering the industry."
Mandated wage increases  — You'll need to be proactive
Minimum wage increases have already been implemented in some states and are on the horizon in others. Greenhouse operations and greenhouse/retail companies will need to prepare ahead of time for the hikes. Rockledge Gardens is in this situation and has been gradually building up pay on its timeframe, rather than the government mandate's timeline. A new bill passed in November in Florida will gradually increase the minimum wage to $15 an hour. Step one of that bill increases the minimum wage to $10 in September, then the wage will increase by $1 per year until it gets up to $15. A percentage cost of living requirement will follow after that.
Knowing the bill was likely to pass, Rockledge Gardens changed its entry-level wage to $10 more than a year ago and now bumps new hires up to $11 at their 90-day review, if it plans to keep them. Rockledge Gardens will also implement a 4% cost of living increase that it will carry out every February, which will help it prepare over the years to hit the $15 minimum wage requirement.
"Companies will need to look toward the future at what is happening statewide and on a national scale to make sure they're prepared to meet the upcoming challenges and pay people a wage that is going to be attractive," Lark-Riley says.
Strong human resource support is Your best chance for survival
The increased demand for workers and difficulties of paying competitive wages is a shared problem across many industries in the U.S. that only adds to the complexities of finding the right job candidate and retaining them long-term. The seasonality and nature of greenhouse labor are enough of a deterrent to significantly drain the candidate pool, but talk to any human resource manager and they will tell you the problems run deeper than that.
"[One of our biggest challenges in Human Resources is] the shortage of motivated, efficient, hard-working laborers," Vogel says "[There's also] the age of the current labor shift and training millennials and Gen X labor of workplace expectations — simple things like working a 40-hour work week."
The industry has not done a good job of preparing Gen X/Baby Boomers to be truly ready to take on a leadership role, according to Downing, who says that many factors have led to this problem, including the lack of training and development programs and the generations of professionals who joined family-owned businesses before those companies began any semblance of planning succession.
"People have ignored getting these employees training, and many candidates have communicated to us that they saw no path for upward career development because those roles would go to family," Downing says. "This chased many professionals to other industries. A positive is that we are doing better with getting 40-and-under professionals leadership training, but they are not quite ready to take over leading larger companies yet."
Downing also speculates that there are many companies in the industry where a human resources leader does not have a seat at the strategic leadership table. With all the challenges the industry is facing, the need is greater than ever for growing operations to have strategic human resources leaders in place.
"This should not be someone who simply checks the paperwork boxes or was a great employee in another department that everyone liked so much the company made them the head of the human resources department," Downing says. "The level of human resources professionalism will positively impact everything right down to Human Resources Information Systems."
What's to be done?
It would take a long time to fully cover the various greenhouse labor issues facing the industry, but the more important piece is what can be done about them. Unfortunately, no one so far has discovered a magic remedy. However, companies are employing strategies that have helped them make some headway with their labor challenges.
Rockledge Gardens has gotten more intentional and strategic about its hiring practices. Rather than hiring warm bodies to fill positions, it has implemented a robust recruiting program. In place of the standard application form left at the checkout, candidates fill out online applications, which gives the company some indication of if they have basic computer skills. Rockledge has also added a Join Our Team page on its website and created a recruiting video. It has worked on its hiring processes to make sure it is interviewing properly to weed people out and not hire out of desperation.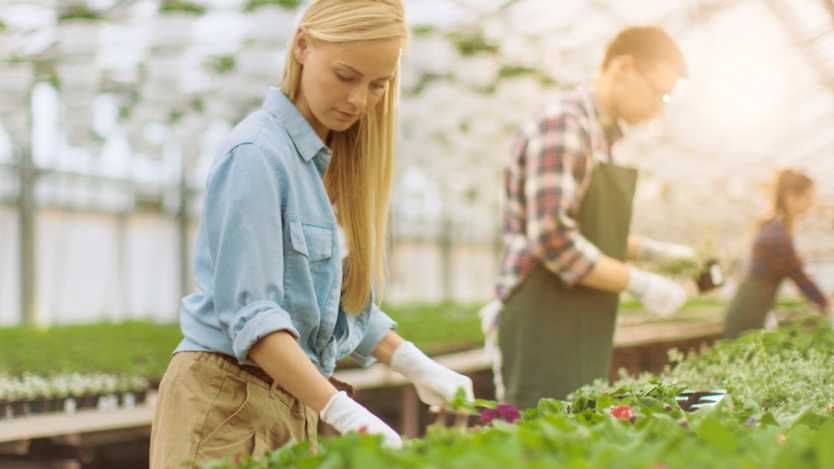 If a potential hire makes it through the company's pre-screening interview process, they are invited to visit the operation for a shadow shift. The potential hire is paid to come in for a day to observe a busy workday, so they know what they are getting into.
"We implemented the shadow shift because we want potential hires to spend significant time here and see if anything is going to be an issue for them," Lark-Riley says. "We also like to get feedback from the person they shadow. If it seems like a go, we invite the person back for a second interview and include the supervisor of that particular department in the second interview."
Lark-Riley says when they invite people for a pre-screen interview, the company sends out a one-page info sheet that discusses the starting rates for entry-level positions, the benefits of being an employee at Rockledge Gardens, and what the company culture is like for employees. She says this eliminates some of the awkwardness around pay discussions and helps people weed themselves out ahead of time.
Skagit Horticulture has worked hard to create job descriptions that clearly outline expectations and help new hires understand the tasks they will do on a day-to-day basis. It follows up with 30-, 60-, and 90-day touches to ensure everyone is following the plan. In addition to training during onboarding, the company offers in-house training each month. Everyone in Skagit Horticulture's Human Resources department speaks Spanish to serve the employees better. This has proved to be a true retention piece for Skagit Horticulture because the people working in human resources are actual liasons for the employees' voices, according to Vogel.
Two years ago, Skagit placed a radio ad on a Spanish-speaking station that was very successful for recruiting seasonal labor, to the point the company has not needed to use a temp agency for seasonal labor in the last few years.
Perhaps the most important piece to making a dent in greenhouse labor issues is to open communication between local companies and companies across the green industry.
"Migrant workers want full-time work," Vogel says. "Companies would greatly benefit from networking and sharing labor to keep costs down. Communication would also help, so we aren't driving up the labor prices based on need. Forecast, stick to the sales plan, and talk to your neighbors."
Two labor issues You need to know about
Kerry Scott, Program Manager at másLabor for H-2A and H-2B visa programs, says he is getting calls daily from people who can't staff their companies. The demand is especially high right now for CDL(Commercial Driver's License) truck drivers. The problem has become so bad Scott is now hearing from local trucking companies asking for help.
"It's theoretically possible to help them in the sense a Mexican citizen can obtain a CDL," he says. "But, if the business is not seasonal, we can't help them. We're even more limited in the case of truck driving where it has to be the growers employing the truck drivers who haul plant material the growers have produced. We supply a significant number of CDL and non-CDL truck drivers to a major greenhouse operation in California, but it is their trucks hauling the plant material they've grown from one location to the other. The other constraint we have with providing H-2A workers to drive trucks is they have to be back home within 24 hours. The limitation makes things difficult."
Overtime rules
Another issue on the horizon, according to Scott,is legislation that would eliminate the agricultural exemption for overtime. Right now, farmworkers are excluded from the overtime provisions of the Fair Labor Standards Act (FLSA) that guaranteed the right to overtime pay for most workers. A new proposal, the Fairness for Farmworkers Act, was introduced to Congress in 2018 by Sen. Kamala Harris (D-CA) and Rep. Raúl Grijalva (D-AZ).
This act would remove farmworker exemptions from the FLSA. If the legislation passes, employers would be required to compensate agricultural workers for hours worked over their regular hours (i.e., 55 hours in the first year, 50 hours in the second year, 45 hours in the third year, and 40 hours in the fourth year) at not less than one and one-half times the employee's regular rate. For employers with 25 or fewer employees, the overtime pay requirements would begin later. The legislation has been on the back burner due to other more pressing issues. However, it could be in Congress' sights again with the COVID-19 pandemic getting under better control.